The Follow the White Rabbit Adoption Event will be on November 1 from 12-4 at the Ohio House Rabbit Adoption Center! Stop by for discounts on all approved adoptions- all bunnies will be 25% off and white bunnies and bonded pairs will be 50% off. We will have bonding experts available for anyone who would like to find a friend for their current bunny. Capital Area Humane Society will also have some of their adoptable rabbits available.
You can also help the bunnies by making a donation from our Amazon Wish List! Donations will be accepted during the event!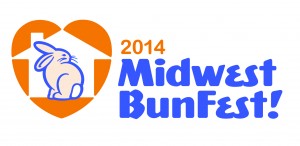 Let the countdown to Midwest BunFest begin! We are just a few weeks away from Ohio House Rabbit Rescue's largest event, Midwest BunFest, on November 8. Midwest BunFest is the largest rabbit education event in the eastern United States. We will be joined by rabbit rescues from across the Midwest including the Dayton Area Rabbit Rescue, Capital Area Humane Society, Columbus House Rabbit Society, Clover Patch Sanctuary, F5RS, and more. Many of the rescues will have bunnies available for adoption! We'll also have a wide array of rabbit-related vendors, the Bunny Spa, Bunny Glamour Shots, and the Hop Shop and Bunny Boutique. Most importantly, we'll have a full day of Education Sessions taught by veterinarians and House Rabbit Society bunny educators.
This year, the event will be at the Ramada Plaza and Conference Center on Sinclair Road. The Ramada Plaza will be offering discounts on hotel rooms and waiving the pet fee for Midwest BunFest guests. Be sure to call the mainline (614-846-0300) and mention BunFest when you are booking your hotel in order to receive the discount.
A big thank you to Norton Road Veterinary Hospital, the Ramada Plaza and Conference Center, Sky High Teez and MedVet for sponsoring the 2014 Midwest BunFest!
Adoption Center Hours
Come visit us at  5485 N. High Street, Columbus, Ohio 43214. Our current hours are Wednesday from 5:30-7:30 and Saturday/Sunday from 12:00 Noon- 4:00PM
Click here for more information about the center!
Thank you to Haley Fischer for our amazing video!
Interested in volunteering? We need volunteers to help out at the Center and at our events.
Check out our Volunteer page for more information.