Would You Run 100 Miles for the Bunnies?
Ohio House Rabbit Rescue supporter, Shannon Morrison, is training to run 100 miles to raise money to support the Ohio House Rabbit Rescue and our Be the Voice campaign. Support Shannon by making a contribution to her fundraising page here! You can also like her on Facebook!
The Adoption Center will be open from 8am-8pm on Saturday, August 30 and 10am-2pm on Sunday August 31 for the Hoosier Hundred! We will be offering 50% off approved adoptions, 25% off in the Bunny Boutique, snacks, refreshments and more! Stop by to cheer Shannon on, and be sure to leave her a note of support!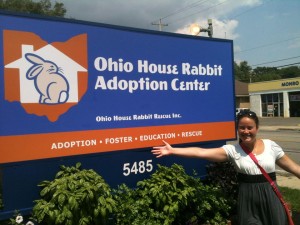 Here is Shannon outside of the OHRR Adoption Center.
Adoption Center Hours
Come visit us at  5485 N. High Street, Columbus, Ohio 43214. Our current hours are Wednesday from 5:30-7:30 and Saturday/Sunday from 12:00 Noon- 4:00PM
Click here for more information about the center!
Thank you to Haley Fischer for our amazing promo video!
Interested in volunteering? We need volunteers to help out at the Center and at our events.
Check out our Volunteer page for more information.