---
OHRR is a Winner in the Petco Foundation's Holiday Wishes Campaign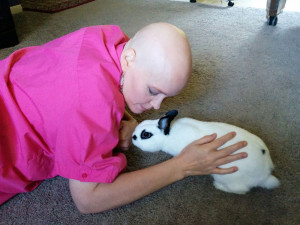 Through a story written by adopter and long-time OHRR supporter, Brenda Bennett, OHRR has been named a winner in the Petco Foundation's Holiday Wishes Grant program. Over 5000 entries were submitted, and Brenda's was one of just 54 chosen from across the country. Her story focuses on her adopted rabbit, Crawford, and the quiet, but powerful help he provided her as she battled breast cancer. The story is very moving and you can read it here.
On December 16, representatives from the Petco Foundation will visit Columbus to present OHRR with an award check. The amount of the grant will remain a secret until the presentation, but will be at least $5000. We can't thank Brenda enough for sharing her story with the Petco Foundation, and we are so happy that Crawford became a part of her family at just the right time!
If you would like to help OHRR become eligible for additional funding from the Petco Foundation, they are sponsoring a "People's Choice" voting on Facebook to determine the most popular stories from the 54 submitted. The winners of this round of voting could receive up to an additional $25,000. Click here to take part in the Facebook voting – the stories are alphabetical by organization name, so just scroll down to OHRR and vote for us – no cost, no obligation – and it could bring lots of extra bucks to the bunnies! Share with your friends!