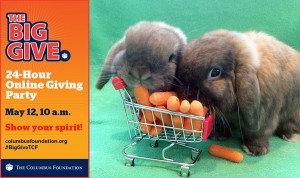 The Big Give is now over. We would like to send out a big THANK YOU to EVERYONE who participated and donated during this event!
Your donations are going directly to our Veterinary Medical Fund to help ensure our adoptable rabbits are spayed/neutered and healthy before they go to new forever homes!
The Big Give organizer (The Columbus Foundation) will notify OHRR in late May, the total that was donated to OHRR and the amount of the additional funds that they will contribute… to OHRR from their $1.3 Million "amplification" funds. We will also receive, at that time, the names of our donors and the amounts donated. When that happens, we will be able to thank you personally for your support. We will post the total dollars donated during this fundraiser, here on this page, as soon as we know the amount that you collectively helped raise for the bunnies.
There are so many worthwhile organizations for donors to choose to support, and we want you to know how much we appreciate your gift to OHRR!
Thank You again!