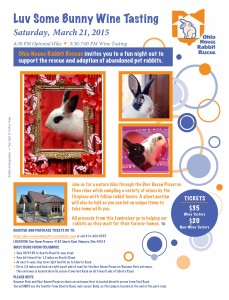 It's been a cold winter so why not hop on by and join us on Saturday, March 21, 2015. The event begins at 4:30PM with an optional Winter Nature Hike with the Wine Tasting immediately following from 5:30-7:00PM.
LOCATION: Deer Haven Preserve, 4183 Liberty Road, Delaware, Ohio 43015
OPTIONAL WINTER NATURE HIKE: 4:30 PM  For those of you who would like to enjoy some outdoor time, please join us for a nature hike through the Deer Haven Preserve. Take in the sights and sounds of the Winter in the forest, beginning at 4:30PM and conducted by our very own Kim Banks!
WINE TASTING: 5:30-7:00 PM  Then relax while sampling a variety of wines by the fireplace with fellow rabbit lovers. A silent auction will also be held so you can bid on unique items to take home with you.
TO REGISTER AND PURCHASE TICKETS GO TO:
https://ohrr-winetasting2015.eventbrite.com or call 614-263-8557
All proceeds from this fundraiser go to helping our rescue rabbits as they wait for their forever homes.
DIRECTIONS FROM COLUMBUS:
Take OH/315N to Hyatts Road (4-way stop).
Turn left (west) for 1.2 miles on Hyatts Road.
At next 4-way stop turn right (north) on to Liberty Road.
Drive 2.0 miles and look on right (east) side of road for the Deer Haven Preserve/Havener Park entrance.
The entrance is located directly across from Ford Road on left (west) side of Liberty Road.
PLEASE NOTE: Havener Park and Deer Haven Preserve share an entrance that is located directly across from Ford Road. You will NOT see the facility from Liberty Road, only soccer fields, as The Lodge is located at the end of the park road.