Ohio House Rabbit Rescue has many volunteer opportunities. Whether you enjoy working with rabbits, or would prefer helping behind the scenes, there are many ways to get involved!
Available Volunteer Positions
Please read the descriptions and click the link to sign up! Please sign-up at least 2 hours before you come to the Center so we can make sure someone is there to let you in.
Bunny Socialization
Because our bunnies are rescued, we need people to come in and spend time with them – talking to them, petting them – so they get used to human contact! Please note – you do not need to attend any orientation if you only want to help out with socialization.
After you have volunteered to socialize at least twice, if you would like to help with litter box cleaning and feeding the bunnies as well, signup to attend BunCare Orientation to become a BunCare volunteer. See below for more information about being a BunCare volunteer.
If you would like to help with bunny socialization only, sign-up here!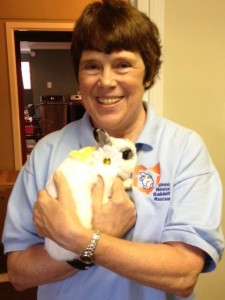 OHRR BunCare Volunteer
OHRR needs dependable and trustworthy BunCare volunteers (at least 14 years old) to help keep our bunnies well fed, happy, and healthy. BunCare volunteers help with expanding x-pens so bunnies can play, litter box cleanup, bunny feeding, and more! Before volunteering for this position, you must volunteer at least twice as a socializer at the Center. Then you must attend the 2-hour BunCare Orientation. Sign up for the Orientation only after you have socialized the bunnies at least two times. BunCare Volunteers are expected to volunteer for at least for two 2-hour time slots a month for at least a year. Call OHRR at 614-263-8557 if you have any questions, or if you want to discuss the age requirement.
To attend BunCare Orientation, please click here to sign up. If you cannot attend one of the regularly scheduled orientation sessions, email contact@ohiohouserabbitrescue.organd we will arrange a time to work with you.
Once you have completed the BunCare Orientation, click here to sign up for a BunCare Shift!
The new Ohio House Rabbit Adoption Center is located at:
5485 N. High Street
Columbus, OH 43214
We are located north of Graceland Shopping Center and south of Selby Blvd-right next the Firestone Complete Auto Care Store.
Other Volunteer Needs
Provide a foster home for a rabbit
Assist with rescuing stray rabbits
Transport foster rabbits
Attend an adoption event
Distribute special event flyers
Monitor social networking sites

Join the Planning Team
Help out with graphic design
Create marketing materials
Plan or attend a special event
Develop educational materials
Assist with website updates
For more information about volunteering please contact us:
Phone: 614-263-8557
Email: contact@ohiohouserabbitrescue.org