Help Jamie and the OHRR bunnies and have
your donation MATCHED.
On an early summer afternoon, a call came in from a Central Ohio family. They found a rabbit in their neighborhood and thought he looked like he might be hurt. When the family brought the adorable mixed breed Dutch rabbit to the OHRR Adoption Center, the volunteers on duty couldn't believe their eyes. The bunny's ears were pinned to his back and one of his eyes was totally sealed closed.
What could be the cause of this unusual combination of conditions?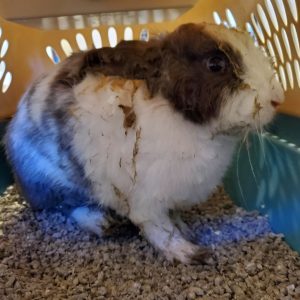 On closer examination, the volunteers were pretty sure some kind of adhesive was causing his ears to be "glued" to his back and the same material had "glued" his left eye shut. We knew the bunny, who the volunteers had named Jamie, needed vet help quickly. Fortunately, even though it was the weekend, one of OHRR's trusted veterinary practices, Animal Care Unlimited, had an immediate opening.
Veterinarians and vet techs worked quickly, but very gently, to remove the adhesive material. Fortunately, no permanent damage had been done to Jamie's fur, skin, or eye. The veterinarians who treated Jamie were not able to determine exactly how he came to be in that condition. Because he was rescued while running loose outdoors, he might have gotten into some discarded adhesive material. Or, in a more unfortunate, but perhaps more likely scenario, he may have been the victim of cruel abuse by a former owner or someone who found him outside.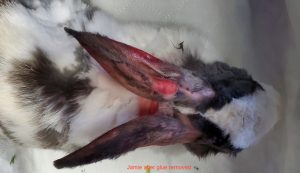 On a happier note, there is an excellent end to Jamie's story. One of the vet techs who helped treat Jamie fell in love with him. She and her husband were so excited to give Jamie the "glue bunny" a very wonderful forever home!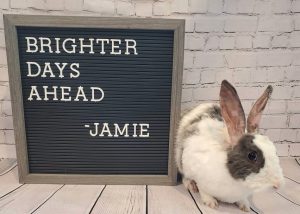 Your contribution to the OHRR Vet Care & Vaccination Matching Fund assures that bunnies like Jamie will always receive the love and care they deserve.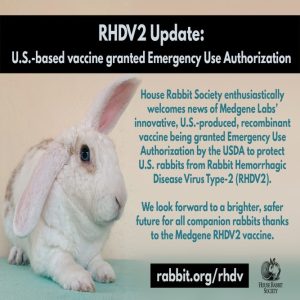 To meet the new challenge and prevent the spread of RHDV2, Ohio House Rabbit Rescue, in consultation with our veterinarians, anticipates the need to vaccinate all bunnies that come into the OHRR Adoption Center. As is true with our commitment to spay/neuter all of our rescue rabbits, these vaccinations represent an ongoing veterinary care responsibility.
Your donation to the OHRR Vet Care & Vaccination Fund will help to defray some of the costs of the vaccination and allow us to maintain OHRR's commitment to keep our bunnies, our environment and our community healthy and thriving.
Please donate today!
The following information provides excerpts from an article about RHDV2 available on the House Rabbit Society website at rabbit.org/rhdv
What is Rabbit Hemorrhagic Disease?
Oct 28, 2021 by Christie Taylor
Rabbit Hemorrhagic Disease (RHD) is caused by a highly contagious and fatal calicivirus in the genus lagovirus (rabbit hemorrhagic disease virus or RHDV) that affects pet rabbits, wild rabbits like cottontails, hares, and wild European rabbits, from which our own domesticated rabbits originate. Beginning in 2020, RHD was detected in wild and domesticated rabbits in the United States and Mexico, resulting in the deaths of untold numbers.
Rabbit hemorrhagic disease was first identified in China in 1984. RHDV2, a new strain of RHDV emerged in France in 2010, and quickly spread throughout Europe.
Symptoms of RHD in domesticated rabbits include, but are not limited to:
Loss of appetite
Lethargy or lack of energy
Fever of 104F or higher 
Seizures, weakness, wobbliness and other neurological signs
Jaundice, or yellowing of the skin and mucosal membranes (most noticeably in the ears)
Bleeding from nose, mouth, genital openings or rectum
Difficulty breathing
Sudden death
RHD kills quickly, giving little warning. Rabbits often die without showing any symptoms.
Incubation Period: RHDV2 has a recorded incubation period of 3-5 days.
Death Rate: In the 2020 Southwest US/Mexico RHDV2 outbreak, officials report a death rate of about 90%.
Survivors: Rabbits who survive RHDV are carriers and shed the virus for at least 42 days, perhaps longer.
---
This article was adapted by Christie Taylor, PhD and edited by Anthony Pilny, DVM and Iris Klimczuk. Published October 29, 2021.
(See the full article for more information on the above topics and others such as: transmission routes, cause of death, durability of the virus, seasonal outbreaks, no known treatment, prevention/vaccination.)