Every one of the over 120 bunnies that OHRR adopts out each year are in need of veterinary care. Some bunnies just need a wellness check. Most need a spay/neuter. A few need lifesaving or intense treatment. Without this important care, our rescue bunnies would not be adoptable and many would not even survive.

Once a year, OHRR asks for help replenishing our Veterinary Care Fund.

This year, three generous donors are joining forces, promising to match your donation dollar for dollar through December 20th to assist us in reaching our campaign goal of $10,000.

Thank you so much in advance from your continued support of OHRR and the bunnies!
Cubby was surrendered to OHRR after his owner moved into an apartment complex that did not allow pets. We learned that Cubby was being housed in a tub on the apartment balcony, so even though the Adoption Center was full we made room.
OHRR volunteers suspected that something was wrong because Cubby was missing quite a bit of fur around his eye. When Cubby had his wellness check-up, it was discovered that in addition to needing a neuter, he also had an ear infection and eye infection. The eye infection had caused him to lose the fur around his right eye. After treating both infections, he was improving and the fur around his eye was growing back.
Unfortunately, during a recheck for his eye, another issue was discovered with Cubby. He had significant entropion of his eyelids. Due to his chronic eye infection, Cubby had developed elongated eyelids that rolled inward against his eyeball which resulted in a recurring irritation of the eye. It was decided that Cubby should have surgery to prevent ongoing eye problems. All went well with the procedure, and when he recovered, we moved Cubby to a location at the Center where he would greeted by a lot of potential adopters.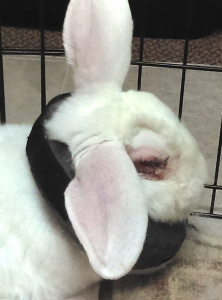 One day a family that had recently lost their pet rabbit came to the Adoption Center in hope of adopting another bunny. After a few visits, they decided that Cubby was the bunny for them. He is now living happily with a wonderful loving family!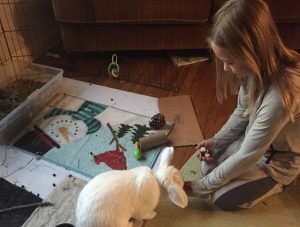 To help bunnies like Cubby receive the vet care they need, please click the button below to contribute to the OHRR Veterinary Care Fund.