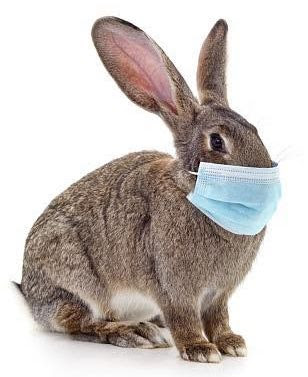 Date: 
The next clinic is scheduled for Saturday May 7, 2022. Both the Booster and First Dose will be available.
Rabbits receiving their first dose on May 7th will be due for their Booster on May 28, 2022.
Time:
10:00 am – 12:00 pm
Location:
5202 Bethel Reed Park
Columbus, OH 43220
Details:
RHDV vaccination. Includes a brief exam and first dose of the vaccine. Requires a vaccine booster in 21 days.
Cost:
$150
Please join Borders Veterinary Services for the next RHDV vaccination clinic.
The Rabbit Hemorrhagic Disease Virus is a deadly disease that can infect both indoor and wild rabbits. Vaccination is recommended for most healthy rabbits to protect them from this virus that is typically fatal and very acute.
What to expect:
Pets will be seen first come, first serve and will receive a brief exam at each clinic by an accredited veterinarian (Dr. Borders). No other medical concerns will be addressed at this time.  Feel free to contact Dr. Borders directly with any questions or concerns. Please check with your regular vet prior to attending if you have health concerns for your individual buns safety. The vaccine has been well tolerated with a low incidence of side effects. A booster will be required 21 days later hence a second event will take place on May 28th.
Cost:
$150 – includes cost of a brief exam at the time of both visits and both vaccinations (i.e. Includes booster). A vaccination certificate will be given after the booster for your records. Payment will be required in full for both visits up front to ensure that adequate vaccine is available for your pet. Payment methods: cash or check please.