OHRR Vet Care Fund Campaign Is Very Successful
Thanks to all of the wonderful OHRR supporters who contributed to the 2018 OHRR Vet Care Fund!  We are so pleased to tell you that we exceeded our goal and raised over $12,000 – and, every dollar of those donations has been matched!  We are very grateful to our matching donors – Rosie Wendt, Nancy Betz, and Pat Barron.
 
As you know, every rabbit who comes into OHRR's care needs medical attention of some kind, a wellness check, a spay/neuter, or in some cases, more intense care.  Every penny of the money contributed to the Vet Care Fund will go directly to help our rescue rabbits.
 
OHRR thanks Shanleigh Brown, Katie and Julie Wolfe, Tracy Wiczer, Rachelle Szakacs, Jo Allsop, Bev May and Pat Barron for their help in writing stories and posts, doing mailings, and tracking donations.  It is a team effort!
The Bunnies Love Their Holiday Gifts
Do You Hare What I Hare is a fun holiday event organized by Adrienne Lang.  OHRR supporters choose a bunny and buy items from their wish list.  On December 16, the bunnies "opened" their presents of entertaining and healthy toys, treats, and special gifts.  They were very Hoppy!  Thanks to everyone who participated and kudos to Adrienne for leading the event!  Great pictures of the bunnies and their presents have been posted on Facebook.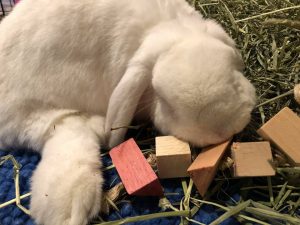 Recognizing a few of the many OHRR volunteers who helped out the bunnies during 2018
Peter Ash – Peter chose to help OHRR for his Eagle Scout project.  After much planning, fundraising, etc., he designed and constructed wood play structures and toys for the OHRR bunnies and for sale in the Hop Shop.  They are very popular!  Thank you, Peter!
Tracy Wiczer – Tracy has led several fundraisers for the rescue this year – and that is in addition to her help with Buncare, rescuing stray rabbits,  and serving as one of our bonding experts.  Thanks to Tracy for offering OHRR Logo Fleece Jackets for sale on Facebook (hoping to repeat this soon), organizing a Plant Nite, and working with Elizabeth Niswander to create a poster of the "breeds" of OHRR rabbits.
Patty and Kirk Groves – Patty has been a faithful Buncare volunteer at the Center since it opened in 2015.  This year she and her husband Kirk stepped up to help at an even higher level.  Through their landscaping business, they mowed the lawn at the Center every week this summer.  This made a huge difference in our "curb appeal".   With their help and that of Jo Allsop, who single-handedly tends to the flower beds and plantings, OHRR's Center really stands out!
Shanleigh Brown, Julie and Katie Wolfe – When BunFest had to be cancelled, we all felt horrible – not only for all of the attendees who were disappointed, but also for the rescues and small vendors who have come to depend on income from the event to run their organizations or their businesses.  Enter Shanleigh and Team Julie/Katie!  They put in countless hours, with the help of Elizabeth Niswander, organizing and promoting Virtual BunFest through Facebook and our website.  Many organizations, including OHRR, benefited!  On behalf of the entire BunFest community, we thank them!
June and Dave Hinkle – Not only do June and Dave feed breakfast every Wednesday and clean litter boxes on Mondays, they also recycle, do repairs, represent OHRR at adoption and other events, and work in the Hop Shop.  This year, they also gave us an extra special gift.  On one day's notice, they arranged overnight space at Overbrook Presbyterian Church for OHRR to host 60 bunnies.  The rabbits had been rescued from Las Vegas  and were on their way to the east coast when their journey was delayed by a blizzard.  Dave and June not only helped set up and care for the stranded rabbits, they also slept overnight at the church to be sure all was well through the night.  Thanks Dave and June!
And, thanks to all of the many  volunteers who helped keep the Adoption Center running, especially our tireless Center Buncare Leaders and Adoption Coordinators, Kim Banks, Kim Eplin, Jennifer Brock, and Bev May.  These four people tag team to staff the Center every hour it is open and supervise the rabbits' care 365 days a year!  Wow!
It does "take a village" to run OHRR and care for the bunnies – thanks to all for your help!!