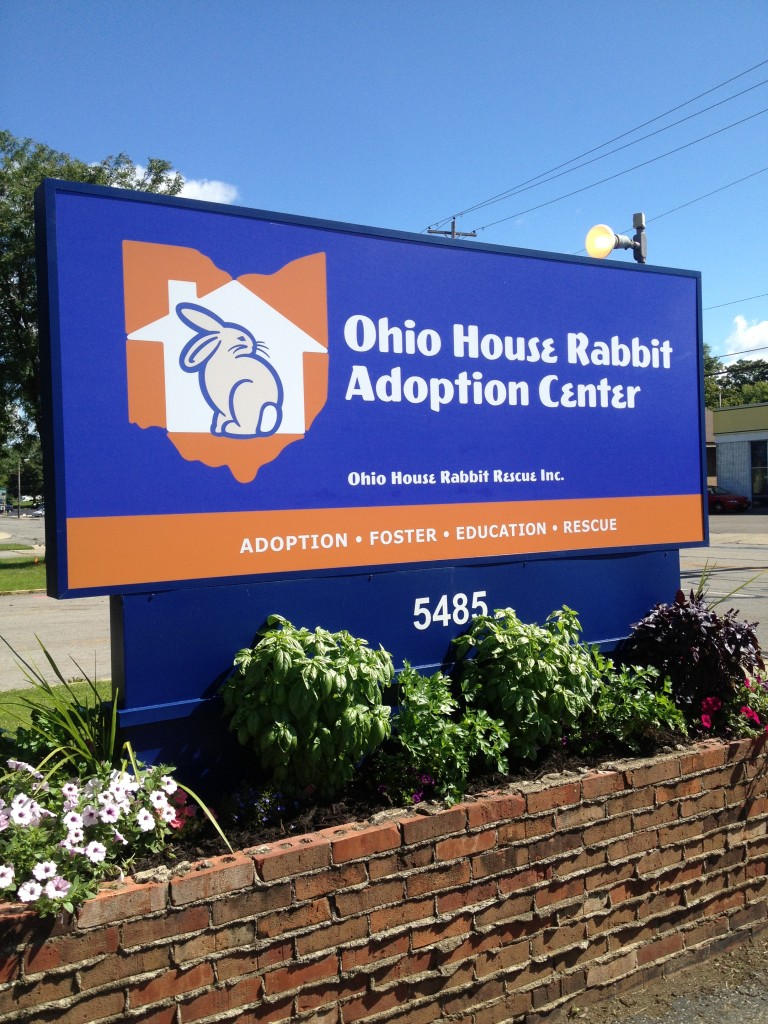 OHRR is currently leasing a 4,073 square-foot property, spread across 18 rooms of varying sizes. Most of these rooms are used to house adoptable rabbits, which OHRR determined to be enough space for 25 to 30 rabbits in 4-foot-by-4-foot enclosures. This amount of space, which meets House Rabbit Society national standards, provide an excellent environment for the bunnies during their stay at the Adoption Center.
OHRR also has reserved a room for basic veterinary care, an intake room for new rabbits, and two rooms for a rabbit play area. We also have two small kitchens, a laundry room and a combination library and meeting room to host a variety of programs and events.  In the entrance of the building, there is space for a rabbit supply store, which is a great location for rabbit owners and others to buy high-quality supplies and rabbit-oriented materials!
The Ohio House Rabbit Adoption Center is funded through donations, store sales and other rabbit-related services, grants, special fundraising events and partnerships with businesses and organizations. OHRR is conducting a three-year fundraising campaign, Be the Voice, to fund the purchase of the Adoption Center. We encourage you to Be the Voice for the many abandoned rabbits in our community by giving to the campaign! A contribution to the Ohio House Rabbit Adoption Center is an excellent opportunity to make a big impact in a small organization, and donors at all levels will be recognized.  A big thank you to everyone who has already shown how they can Be the Voice for abandoned rabbits.  Check out a complete list of contributors below.
We want to thank you in advance for your support of Ohio House Rabbit Rescue!
Click here to learn more about how you can Be the Voice for abandoned rabbits in Ohio!
Click here for giving levels, pledge forms and information on how to give!
Thank you to everyone who has shown how they can Be the Voice for abandoned rabbits:
Nancy Betz               Beverly May               Pat Barron               Rosemarie B. Wendt  
Joanne Allsop               Diane and Dirk Cantrell                 Carl and Karen Winstead (in memory of Zoe)
June Hinkle               Mary Beth Parisi               Kim Banks              
The Yassenoff Family               Barbara Oglesbee, DVM               Susan Borders, DVM
L. Kathleen Fliehman               Dr. Ellen L. Betz               Allison Coleman
Gia Lamanna               Lynda White               Judy deRoche               Timothy Wright
Kimberly Eplin               Beth A Savage              Leslye R. Creek
Anne S. McIntyre               Stephen and Helen Parisi             Loraine M. Treneff
Cara Cox (in honor of Ping and Pong)               Dianna Wears (in memory of Tigger)
Sherri Jacobs               Dale Brubeck              Shannon Morrison
Barb Armitage and Robert Shapter               Adrienne Lang               Brian Caulley
Carol Costa and Michael Pikosz               Patricia and Kirk Groves               Chris Smithies
Terri and Graham Montigny              Susan Daniel               Chris Baker
Margaret R. Mosher               Jacqueline S. Bates              Janice Ackers
Aynonumus               Ian Hamilton               Michelle Johnson               Amy Lewis

Nancy Beattie (in memory of Connie Inglis)
William D. Mascari               Megan Kadel-Edwards              Jennifer I. Elin               Jan Perry
Mary Rose Molinaro                Peggie A. Betz               Muhammad Mashwani
Mary Ribar               Carrie A. Levicki               Erin Sherer               Christina Rodgers
Lisa McDonald               Josh D. Vittie               James W. Downey
Christy Frost               Cara Haughey and Ian Ackers               Robin Craft
            Jennifer Cheavens               Amy Shears
Emily Fagundo, DVM               Geraldine Rea               Rachel Denholm
Rebecca L. Allen               Linda A. Bourassa (in memory of Dakota)               Anonymous
John S. Moreland            Jessica M. Lucius               Alison Betz
John W. Moreland               Catherine A. Jung               Anna Ackers
Terri D. Cook               Regina Dowdy          Janice Vidosh
Patti Brant               Amber Behanna               Sara Erickson               Jessica Cucka
Monica Cocci               Michelle Smith               Dorene Henebry               Aimee Dotson
Amy Mott               Sunje Schwarz                 Allison Turbee               Stephanie Molly
Gail Pieniak                 Michelle Koren               Greta Parker             Stephanie Welsher
Vancee Cerasini               Monica Keise               Molly Semones
Natalie Pitheckoff and Jeremy Meche (in memory of Mr. Domino)
Julie Ankrom               Anonymous
Capital Veterinary Referral and Emergency Center

Lowe's Home Improvement- Dublin
PetPeople
Liberty Elementary School- Penny Harvest
The PETCO Foundation
Pet Photography Ohio
Small Pet Select