Help Sassy and the OHRR Bunnies and have your donation MATCHED
The call came in on a hot afternoon in July.  A small black rabbit had been left in a box on the driveway of a Pickaway County farm.  The farm owner who called Ohio House Rabbit Rescue (OHRR) for help suspected that she had been chosen as the drop site because she was known as an animal lover.  She had no experience with rabbits, but she could see a large abscess on the bunny's right thigh.  And, that was just the most obvious of the rabbit's medical issues.  This Good Samaritan immediately took the bunny to a veterinarian for treatment of the abscess.
When she brought the bunny to OHRR, volunteers saw other medical needs.  The rabbit was missing fur around her right eye where there was crusty white discharge.  Her ears were filled with what the vet described as "waxy debris."  And, she was having trouble getting around.  We suspected that she had been kept in a very small cage her entire life.
One of our volunteers named the little black bunny "Sassy," because she knew the bunny would need a spunky personality to overcome all of the challenges she was facing.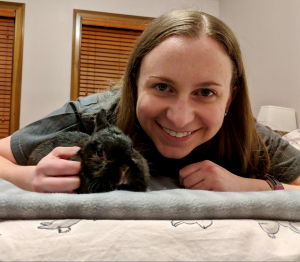 Bunny mom, Tracy Wiczer, and Sassy today
After addressing her immediate medical needs, we introduced Sassy to her new living space in a back hall at the OHRR Adoption Center.  (The hall is not a spot we prefer to house our rescues, but because the Center is always over capacity, sometimes we have no choice.)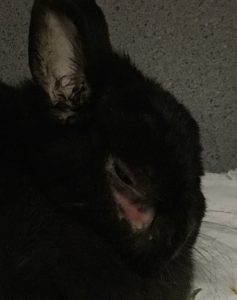 But there was still something wrong.  Sassy wasn't eating enough.  She would eat 3 or 4 pellets and small bites of hay – just enough to survive.  OHRR volunteers methodically tried 5 different types of pellets and 6 different kinds of hay.  Sassy still showed no interest in eating.  Her poops grew very small, and we were very worried that she might not make it.
Then, three things happened that transformed Sassy's life and future.
First, in search of some reason she was not eating, we took Sassy in for a full body x-ray to see if we could find something, anything.   And there it was on the x-ray!!  She was born with a congenital spine abnormality called "kyphosis."   Kyphosis is an abnormal curving of the spine (kind of like scoliosis in humans) that leads to severe arthritis and chronic nerve and muscle pain. All along, she was probably hurting so badly that she didn't want to eat.  Pain meds immediately became part of her daily routine.
Then, one of our volunteers who has a special gift of being able to communicate with animals came to visit Sassy.  Our volunteer talked quietly to her and explained that she was in a safe and happy place now.  After her visit, Sassy visibly perked up and became more active.
Finally, we decided to give Sassy a new space where she would see the volunteers and get more attention.  She even received a gift of a fancy new pink fleece for her enclosure.
The combination of these three things made all of the difference for Sassy.  She started to eat normally, sought attention from the volunteers, and would binky around her pen.  When someone would stop to talk to her, she tipped her head up and looked right at them, listening intently to what they had to say.  We are very sure that she understands us!
But Sassy had one more challenge to overcome.  In late September a virus (RHD2) that is very contagious and very fatal to rabbits was discovered in Medina Co. Ohio.  There are lots of unknowns about how this virus is transmitted.  Everyone in the rabbit community around the state was on pins and needles.  OHRR was even forced to cancel our major event and fundraiser, Midwest BunFest, because of fears about spreading the disease.
Then the unimaginable news came – it was possible that Sassy had been exposed to the virus.  She had been in proximity to another rabbit who might have the virus.  We were beside ourselves.  After all that this precious little girl had been through, we just could not face her getting this terrible disease.
But there is a happy ending to the story.  After being quarantined for the nine day incubation period of the virus, Sassy showed no sign of the illness.  And, eventually, the other rabbit was found to not have had the virus either.
To complete the happy ending, one of our faithful Center volunteers decided to adopt Sassy and add her to their rabbit family.  Now she regularly gets the love she deserves and is super spoiled.  She literally buries herself in her tasty hay!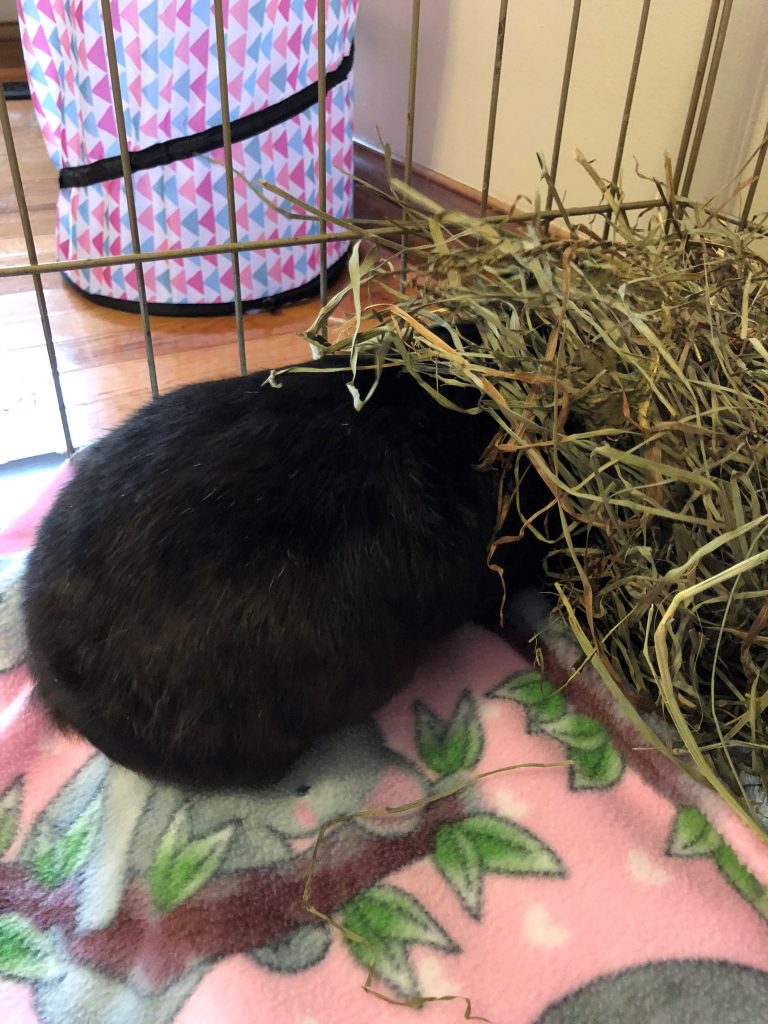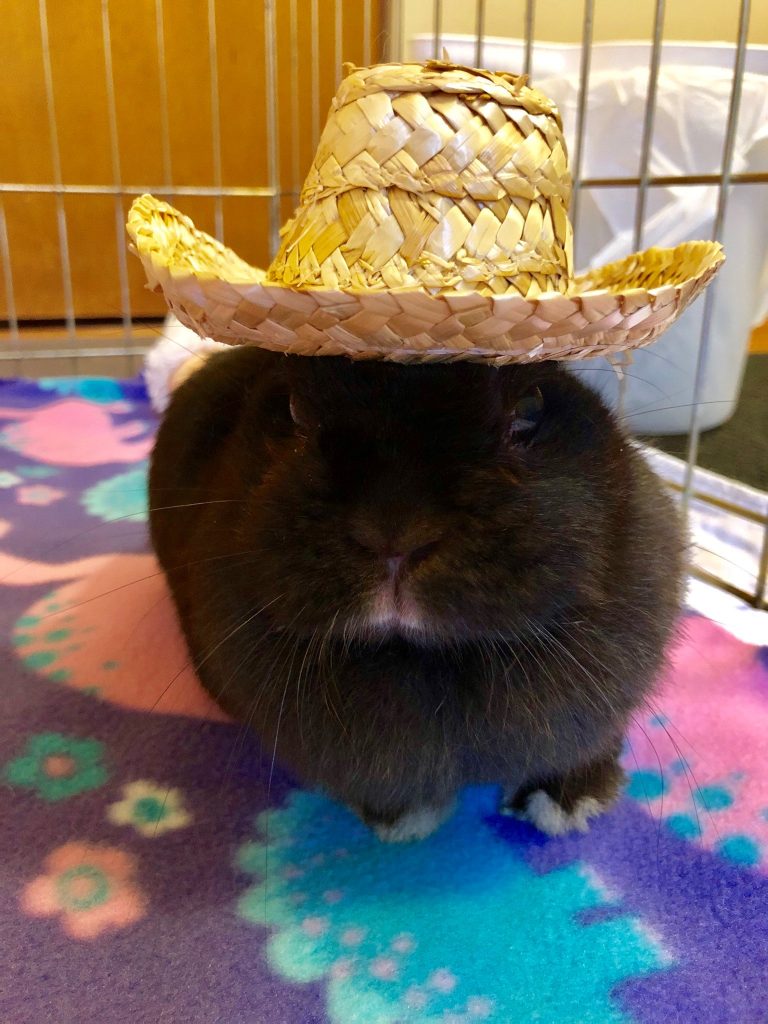 Your contribution to the OHRR Vet Care Matching Fund assures that bunnies like Sassy will always receive the love and care they deserve.